One of the most exciting things to do when visiting a foreign country for the first time is to check out the local dishes. However, most tourists make the same mistake — in an effort to avoid food poisoning, they opt for the safest choices, which are usually fast-food alternatives that are a dime a dozen back home. What they don't realize is that they are robbing themselves of the opportunity to create and enjoy new gastronomic experiences.
When traveling, don't be afraid to ask the locals where the best dining places are. That way, you are sure that the places are so safe and clean that even residents frequent them. This article talks about just a handful of mouthwatering dishes that you need to try whenever you're in one of the countries below.  They may not be as great at grandma's cooking, but these dishes certainly come close.
Argentina
This country in South America is best known for beef and empanadas, but those are not the only things they have to offer. Believe it or not, their dulce de leche- and malbec-flavored ice cream are among the best in the world, according to luxury travel expert Leah Reilley of Artisans of Leisure. If you're in the mood for cheese, don't leave the Argentine lands without sampling provoleta — a smoky provolone variant that's barbecued and sprinkled with oregano. As far as simple dishes go, it is one of the best. As for native Andean cuisines, make sure to get a heaping bowl of a delicious and hearty stew of corn, beans, squash and meat called locro.
Brazil
No trip here is complete without a culinary visit to the state of Bahia. First thing to order: Moqueca de peixe, a fish (and sometimes shrimp) stew made with tomatoes and coconut milk, says Reilley. For a satisfying weekend lunch – not unlike American brunch – feijoada, a heavy stew of beans, meat and sausage served with rice, can be found all over Brazil. If you're looking for something lighter while you get some sun and sand, fresh grilled fish with tomato-and-onion salad coupled with a cold bottle of Brahma beer is a perfect beach meal.
China
In Beijing, the restaurants in the alleyways of Qian Men are renowned for hot pots or huo guo, says Anita Lo, executive chef at Annisa in New York. Here you'll find the streets are lined with boiling pots filled with soup ingredients. Its excellent selections range from Mongolian specialties – best known for lamb and mutton dishes – and spicy Szechuan.
Some 600-plus miles away, Shanghai is best known for its street food, especially soup dumplings. But don't stop there, advises Lo. Sheng jian bao or steamed pork bun, makes for a perfect snack, while jian bing or egg-based crepes with a bean sauce or chili smear, is a local power breakfast.
India
Word of advice: Avoid the street food. Try to score an invite to a local dinner table rather than settle for street vendors. Many locals are vegetarian, but Indian cuisine includes a variety of delicious meat and seafood. Grilled minced lamb or seekh kebabs, are a staple of Tandoori cooking, while the nation's coastal regions are renowned for masala (spiced) fish or prawns. Natives advise caution when eating seafood during the monsoon months of June to August due to the increase in water-borne diseases.
While India conjures up images of curries, other more exotic local specialties are worth digging around for. In North India, never say no to chaat or paani-puri. These delicious crispy crackers are dressed up with condiments of the sweet and spicy variety. If you're in the south, say Kerala, don't leave without trying fresh coconut. Traveling tappers climb coconut trees, tap the fruit's blossom and decant the sap into a bottle. As the day progresses, the liquid becomes increasingly intoxicating, transforming from a light, fizzy drink mid-morning and to a seriously strong alcoholic ferment by evening, says Thy Trang, founder of the Asian Culinary Forum.
Italy
Eat lampredotto, a special street-cart sandwich, when you're in Florence, says David Rocco, producer and host of David Rocco's La Dolce Vita, launching on the Cooking Channel this month. When friends visit, he reveals the secret ingredients only after they've savored it: chili sauce, salsa verde and cow's stomach. "Don't look at it before it's cooked — it looks like a brain. But one bite and you're hooked."
Pizza not exotic enough for you? The pizza in Naples has a "DOP" stamp of approval from the Italian government to authenticate it. The ingredients are simply dough and a rich marinara sauce with oregano. In this case, native is best. "Locals say there's something in the water density in Naples that guarantees you will never have a pizza like it anywhere else in the world," says Rocco.
If you're lucky enough to be around during the autumn truffle season, try uova con tartufi — fried eggs with truffle oil. It can't be found on restaurant menus, but chefs from Tuscany and Umbria will know exactly what you mean if you ask for it.
Japan
You can get great sushi almost everywhere, so when you're in Japan it's worth trying other delicacies. Iron Chef Masaharu Morimoto recommends trying okonomiyaki, a savory pancake (or Japanese pizza) from his hometown of Hiroshima. This dish is made with batter, vegetables, seaweed, meat, a sweet sauce resembling Worcestershire and Japanese mayonnaise. Other Morimoto regional favorites include anago-meshi or sea eel rice, and tonkotsu ramen from Hakata, a pork-bone white soup with ramen noodles.
Lebanon
Many dishes, such as a delicious chickpea spread called hummus, are prevalent throughout the Middle East. But when you're in Beirut, don't leave without trying mezze, a selection of starters with dips like hummus and baba ganoush, fresh vegetables, olives and leavened bread that could be a meal in itself.
Lebanese cuisine relies heavily on poultry and meat, especially lamb, grilled or served in a stew. Lebanon also has a growing wine industry, but only order if you're handed a wine menu since traditional Islamic law generally prohibits drinking alcohol.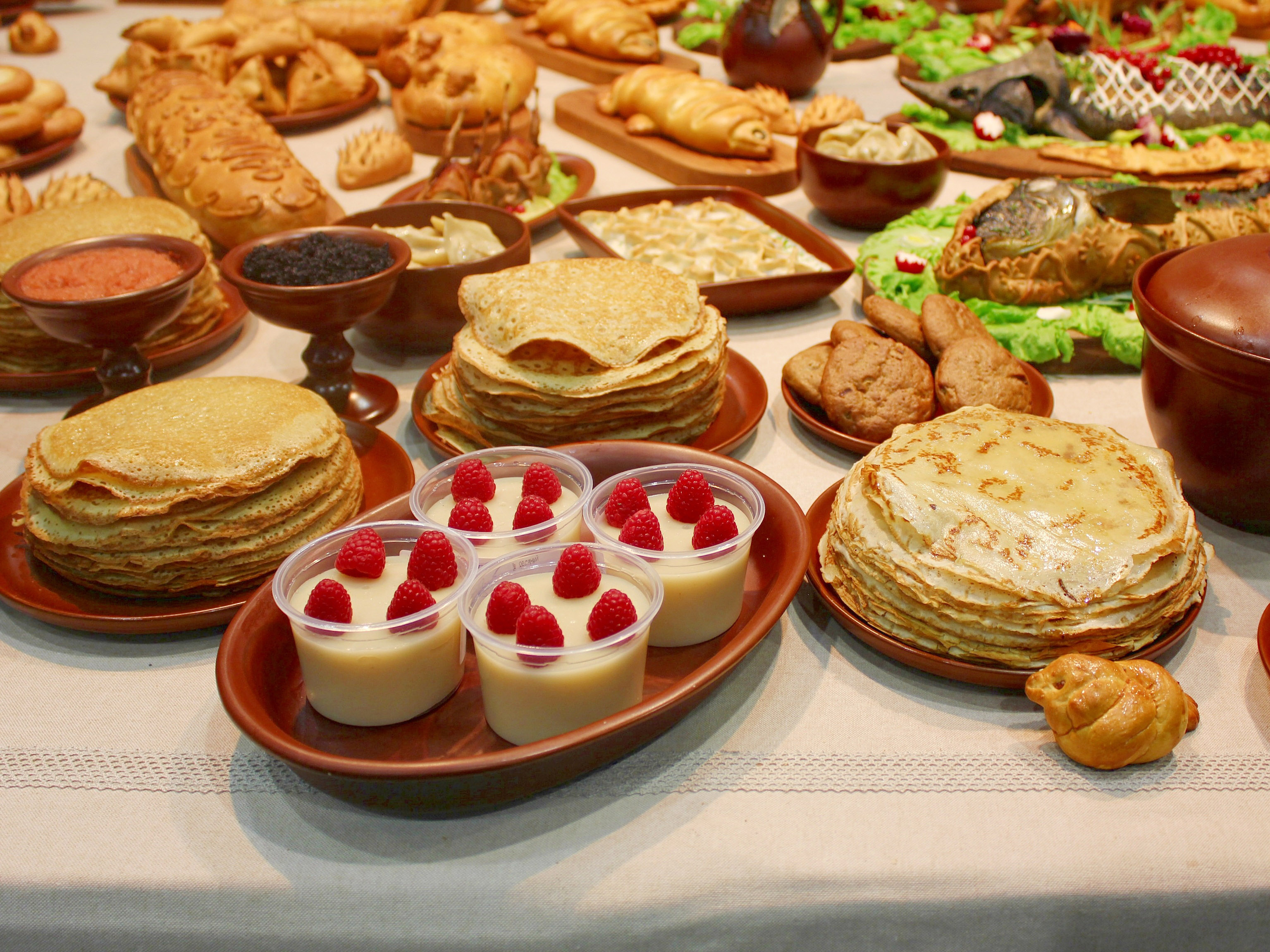 Russia
"The best meals are worth the money in Russia," says Reilley. If you see solyanka on the menu, don't hesitate to order it. This salty, sour and often spicy soup combined with meat or fish and topped with smetana, Russian sour cream, is delicious.
Borscht and pelmeni (dumplings) are ubiquitous in Russia, but experiment with different varieties; salmon and wild mushroom pelmeni are Reilley's recommendations. Borscht can be spiced up with roasted apples and smoked goose breast. If you find the time, a culinary side trip to Georgia or Armenia in search of Azerbaijani plov, a spiced rice dish cooked with meat and dried fruit, is worth the journey.
It pays to do your research about what gastronomic pleasures each place you travel to can offer because you'll never know what you'll uncover. Keep family and friends updated by posting photos not just of the food, but of the spectacular scenery as well. Just don't forget to have your gadgets' screens protected with GhostGuard, no matter the make or model.